– includes population & unemployment rate
The increasingly diverse economic base and lifestyle of the northern Idaho region have attracted thousands of new residents in recent years, making it Idaho's second most populous region. The largest city, Coeur d'Alene, is just 33 miles from Spokane, Wash., where many Panhandle residents work.
Industries playing major economic roles include lumber, a variety of manufacturing, mining, tourism, retail, agriculture, call centers and the Coeur d'Alene and Kootenai tribes. North Idaho College and the satellite campuses of University of Idaho, Lewis-Clark State College and Boise State University are a key component of providing a highly skilled and trained workforce.
Northern Regional Economist
– includes population & unemployment rate
North Central Idaho's economy traditionally relied on forest products and agricultural products, especially wheat and cattle. Its fast-growing manufacturing sector includes ammunition, gun, jet boat, and equipment makers, as well as lumber and paper mills.
The University of Idaho, Nez Perce Tribe, Forest Service, Lewis-Clark State College, and fish hatcheries are among the largest employers in the region.
North Central Regional Economist
– includes population & unemployment rate
Southwestern Idaho is the largest region with just under half of Idaho's population and civilian labor force. The Boise Metropolitan Statistical Area made up of Ada, Boise, Canyon, Gem, and Owyhee counties comprises 90% of the region's CLF.
Southwestern Idaho is highly diverse with a strong construction industry, agriculture, and all forms of manufacturing, from semi-conductors to trailers to cheese and frozen potato products. The support industries for the growing population and businesses of all sizes drives the diversity.
Southwestern Regional Economist
– includes population & unemployment rate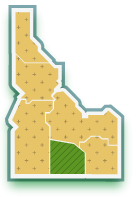 Major industries in south central Idaho include agriculture and agri-business and food processing. The durable manufacturing sectors are plastics, metal, and corrugated box. Tourism is another strong sector with Sun Valley located in Blaine County–considered the nation's first destination ski resort. The regional population grew 10 percent from 2008 to 2018—reported by the US Census at 199,069. The largest county is Twin Falls, a metropolitan statistical area that includes both Twin Falls and Jerome counties. Twin Falls County grew 14.6 percent from 2008 to 2018–its population is 86,081 comprising 43 percent of the region's population.
The College of Southern Idaho is a critical component of successful workforce development regionally. It is viewed as a vanguard in Idaho, assembling a popular dual-credit program that allows high school students the opportunity to achieve post-secondary credits and credentials. Southern Idaho Economic Development attracts business and talent to the region highlighting the area's business-friendly policies along with its recreational amenities. Its eight counties are known for collaboration in regional goals.
South Central Regional Economist
– includes population & unemployment rate
Southeastern Idaho's economy includes agriculture, high-tech manufacturing, energy, services and trade. Pocatello is southeastern Idaho's largest city and home to Idaho State University, a major research university and partner in workforce development, basic research and cultural opportunities.
Southeastern Regional Economist
– includes population & unemployment rate
Eastern Idaho's diverse economy combined with an anchor like the Idaho National Laboratory keeps the region from experiencing volatility. The INL has one of the largest concentrations of technical professionals in the nation's Rocky Mountain region and is one of the state's largest employers. Easy access to postsecondary education through College of Eastern Idaho and branches of the University of Idaho and Idaho State University in Idaho Falls and Brigham Young University-Idaho in Rexburg, has created a highly educated population.
Eastern Regional Economist